Let all religious, therefore, rooted in faith and filled with love for God and neighbor, love of the cross and the hope of future glory, spread the good news of Christ throughout the whole world so that their witness may be seen by all and our Father in heaven may be glorified

–Perfectae Caritatis, Pope Paul VI, 1965
Taking this call to renewal seriously, Franciscan women began to collaborate and explore possibilities. In April, 1966, thirty-three major superiors and/or formation personnel from the northeastern and eastern regional divisions of the Council of Major Superiors of Women Religious (CSMW) met at Mount Alvernia, Pennsylvania, and approved "a Federation of Franciscan Sisters Communities of the United States for the purpose of mutual assistance in renewal and adaptation."
On January 17, 1967, a formal declaration was submitted to the Sacred Congregation for Religious in Rome, expressing the intent of establishing the Federation.
The first ten years of the Federation were rich with activity. Among such activities was the Wheaton Conference held in November 1971, which gathered both men and women Franciscans to reflect on their way of life. The was followed by a conference in Chicago focused on sharing experiences on prayer, community, and the Franciscan contract with the world.
Throughout these beginning years, the Federation further articulated its purpose, as well as its official name—which in 1971 became Franciscan Sisters of the United States of America. Strengthening the Franciscan heritage remained high in the Federation's priorities.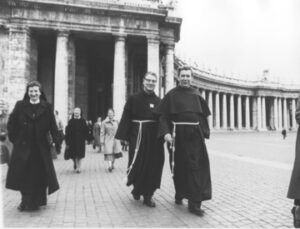 In 1974 the Federation transcended its national scope when Sister Rose Margaret Delaney, SFP was sent as a representative to the Fourth Franciscan Tertiary Inter-Obediential Congress in Madrid, Spain. The Federation thus began its participation in an international project which would create, in an unprecedented way, a renewed Rule of Life for Third Order Regular Franciscan men and women worldwide.
By 1981 the Federation expanded to include the brothers as formal members.
With the overwhelming approval of the statutes revision, I welcome into the Federation our Brothers of the Third Order Congregations. Your collaboration with us can only enhance and strengthen the work and the fruit of the Federation.

Sister Paula Pohlmann, OSF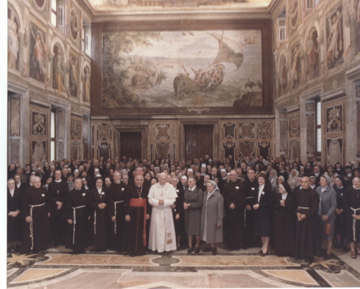 Today, the Federation continues to give life to the Franciscan movement through a transformational process that expands the cooperative reach of the mission. Working together, vowed religious and their associates, secular Franciscans, lay Franciscans, and all who seek to live out the Franciscan movement in today's world partner and collaborate to move into the future together.