40th Anniversary Luncheon Celebration of the Third Order Regular Rule
December 7, 2022
@
12:00 pm
–
12:45 pm
EST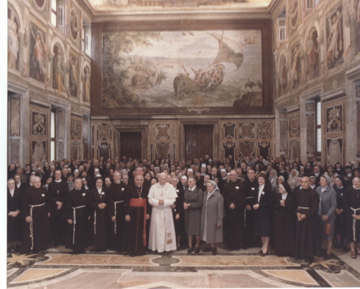 Join the Franciscan Federation at noon Eastern on Wednesday, December 7th to celebrate the 40th anniversary of the Third Order Regular Rule. Executive Director, Sara P. Marks will be interviewing Sr. Margaret Carney and Jean-Francois Godet-Calogeras on their experience of living through the pivotal process that brought about the acceptance of the revised Third Order Regular Rule. After the interview the conversation will be opened up for participants to ask questions. Bring your lunch, and join us via zoom to celebrate this incredible moment in the Third Order Regular history.
In preparation for our time together, feel free to watch Sr. Margaret Carney's address to the IFC-TOR at the 2022 conference, where she shared the history of the Rule.
Please register below.