Confronting Environmental Racism
November 10, 2022
@
4:00 pm
–
5:00 pm
EST
Franciscan Action Network and the Franciscan Federation are pleased to present a 4-part webinar series on Confronting Environmental Racism.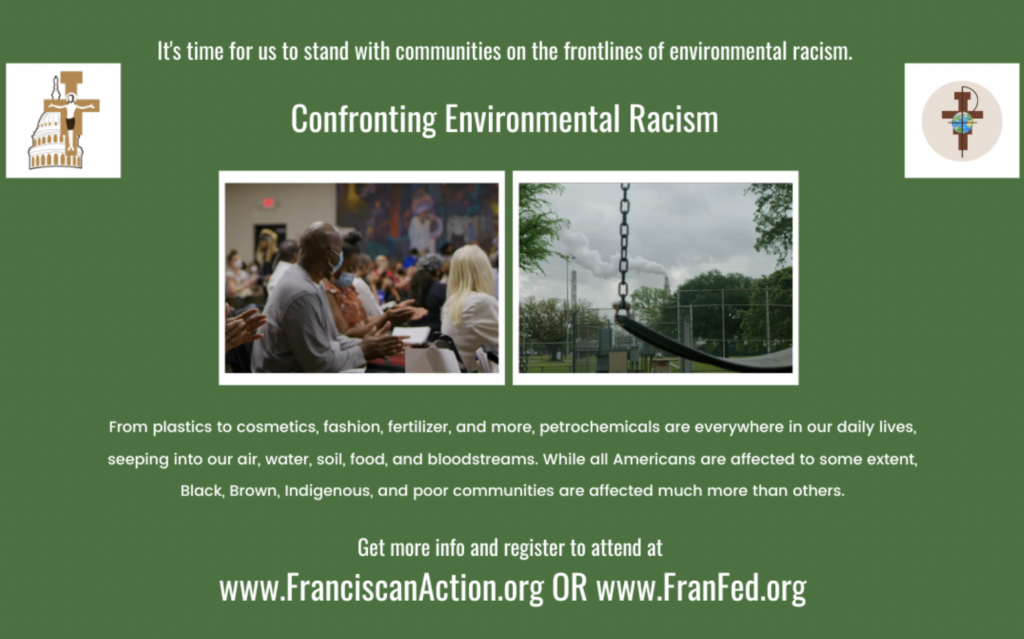 From plastics to cosmetics, fashion, fertilizer, and more, petrochemicals are everywhere in our daily lives, seeping into our air, water, soil, food, and bloodstreams. As the transition from fossil fuels to renewable energy proceeds, many corporations are trying to ramp up petrochemical and plastic production to stay in business. While all Americans are affected, some communities are affected much more than others. As Franciscans, we are called to stand with our sisters and brothers who have been most directly affected.
The oil, gas and petrochemical industry have long placed their facilities in areas inhabited by Black, Brown, Indigenous, or poor communities deemed "sacrifice zones." It's time for us to stand with communities on the frontlines of this environmental racism.
The centerpiece of our series will be three short documentaries, "Big Oil's Last Lifeline," produced by Hip Hop Caucus. At three of our four gatherings, we will view one 20-minute long documentary and hear from a speaker in one of the "sacrifice zones" in the U.S.–Houston, Louisiana, and West Virginia–while at the fourth we will discuss advocacy options with experienced activists.
Together, we will learn how the petrochemical industry violates laws and regulations with impunity, leading to the unconscionable – dumping cancer-causing pollution into the air, water, and soil – and what can be done to address this situation.
NOTE: There are four sessions. Each session will be one-hour beginning at 4 pm Eastern / 1 pm Pacific. Attend one or more if you wish. The fourth session will be a discussion with climate activists.
Franciscan Action Network
202-527-7575