A reflection and offering from Eunice J. Park, Commission Coordinator
Every year in May, we celebrate Asian American and Pacific Islander Heritage Month, a time to recognize in a particular way the contributions of API Americans to the history, culture, and achievements of the United States. Of course, no amount of time is enough to appreciate the histories and contributions of any group of people, but they are worth highlighting in order to understand the complexities of the US culture and the culture of the American Catholic Church.
A rather broad political term, Asian Americans and Pacific Islander Americans include people from every part of the Asian continent and from the Pacific islands. Specifically, for Catholics in the US, the Conference of Bishops defines this as 26 Pacific states and 53 Asian countries and territories (East Asia, Southeast Asia, South Asia, Central Asia, and Near East or Middle East), which means – Jesus was born in Asia![1]
The first documented Asians arrived to the Americas in 1587, when Filipinos landed in California. The next group to arrive were the Indians, who landed in in Jamestown as early as 1635. The first Chinese arrived in Hawaii in 1778, followed by the Japanese in 1806. After Guam was ceded to the US in 1898, the native Guamanians (Chamorros) began to migrate to California and Hawaii. The first documented Vietnamese in the US arrived in 1912 and Samoans began their migration to Hawaii in the 1920s.
My own ancestors from Korea began arriving to the US as early as 1884. More interestingly, the history of Korean Catholics is incredibly unique. The Korean Catholic Church is the only national Catholic church that is recognized as being founded by a lay community, in 1784. In the following years, Catholics in Korea, as well as in many other Asian and Pacific Island countries, suffered numerous political suppressions and religious persecutions. But through strength, martyrdom, and faith, API Catholics persevered and remained faithful.
So in this way, the API immigrants have contributed greatly, not only to the socioeconomic history and culture of this country, but to the American Catholic Church as well. Currently, there are about 3 million Catholic API in the US and that number is growing fast. These communities are in great need of professional, educated, and culturally skilled leaders to minister to them. Yet, there are no dedicated programs available to train and form these leaders.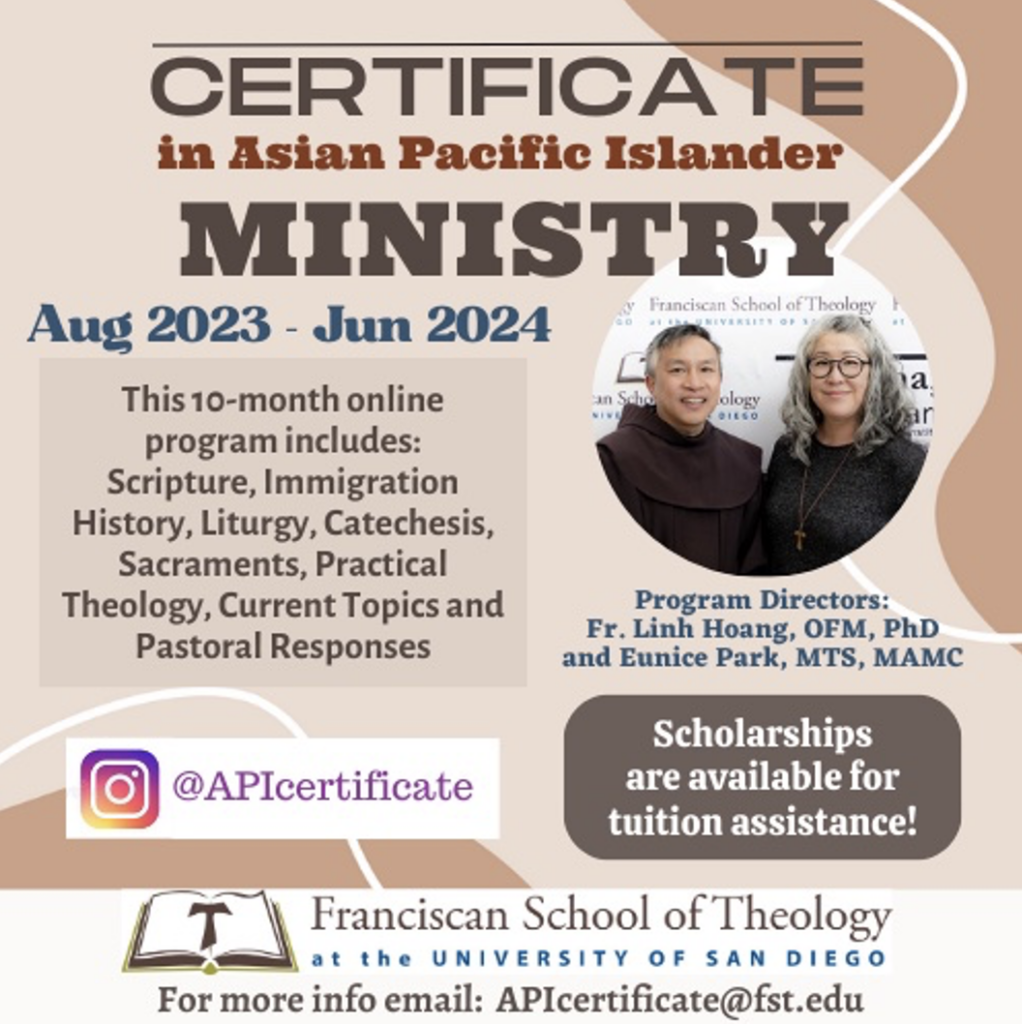 But great news! This August I will launch – along with my co-director Fr. Linh Hoang, OFM, PhD[2] from Siena College – the first program specifically in API Catholic Ministry! It is a one-year, on-line certificate program offered through the Franciscan School of Theology at the University of San Diego, aimed at training those ministering to the various and growing API populations in the US. It will teach: (1) cultural competency; (2) immigration history; (3) sociocultural and ministerial realities; (4) ministerial best practices; and (5) Catholic theological foundations. More information can be found here: www.FST.edu/degrees-programs/non-degree-and-certificates
This is a program that Fr. Linh and I have been developing for over 10 years, and we are confident that this is needed more than ever. Please help get the word out, and feel free to contact me if you have any further questions. I can be reached about this program at: APIcertificate@FST.edu
Your Federation Commission Coordinator,
Eunice Park
---
[1] https://www.usccb.org/issues-and-action/cultural-diversity/asian-pacific-islander/resources/upload/AP-Pastoral-Statement-English.pdf
[2] https://www.siena.edu/faculty-and-staff/person/linh-hoang/